When it comes to experiencing the best of both worlds – a blend of traditional charm and modern elegance – "My Karak Chai" takes you on an extraordinary journey. Originally hailing from the UK, this unique cafe has expanded its horizons to Pakistan, now gracing Defence Raya Golf & Country Club, DHA Phase 6 with its delightful presence.
Vibrant & Elegant Ambiance
Step into My Karak Chai, and you'll be immediately greeted by a burst of colors and a welcoming atmosphere that embraces you like an old friend. With its two spacious floors adorned with neon signs, captivating wall art, and creative texts, the cafe effortlessly fuses modernity with a vibrant desi touch. The decor sets the stage for a memorable experience, one that might be challenging to describe in mere words – it must be felt and savored.
Diverse Menu for Every Palate
My Karak Chai proudly boasts an extensive and diverse selection of the menu, offering a tantalizing fusion of desi and continental delight. Whether you're craving the familiar flavors of Desi Chai and Desi Food or seeking to embark on a culinary expedition exploring mouthwatering English Breakfast, BBQ, Street Foods, and more, this cafe caters to every palate. But that's not all! Beyond the culinary delights, My Karak Chai also offers an impressive array of beverages, from fizzy drinks and refreshing juices to delightful milkshakes and mocktails, ensuring there's something to quench every thirst and elevate every moment of your experience.
Our Review of My Karak Chai's Tempting Treats
As we stepped into the vibrant world of My Karak Chai, our taste buds were eager to embark on a culinary journey filled with unique flavors and delightful surprises. With high expectations, we dived into trying some of the cafe's signature dishes, each one offering a distinct experience. Here's our review of the tantalizing treats we savored, served in the order they graced our table:
1. Mango Lassi & Gol Gappay – A Refreshing Start:
Our culinary adventure commenced with the refreshing combination of Mango Lassi and Gol Gappay. The Mango Lassi, a classic favorite with a twist, was impeccably balanced, boasting just the right blend of yogurt's tanginess and the natural sweetness of mango. It left us feeling invigorated and ready for the flavors that lay ahead. The Gol Gappay proved to be a revelation, with exquisitely crafted crispy puris brimming with an assortment of fresh veggies, tantalizing the palate with every bite. The accompanying shot of sour mint water added the perfect touch, making it a must-try treat that surpassed the street food experience.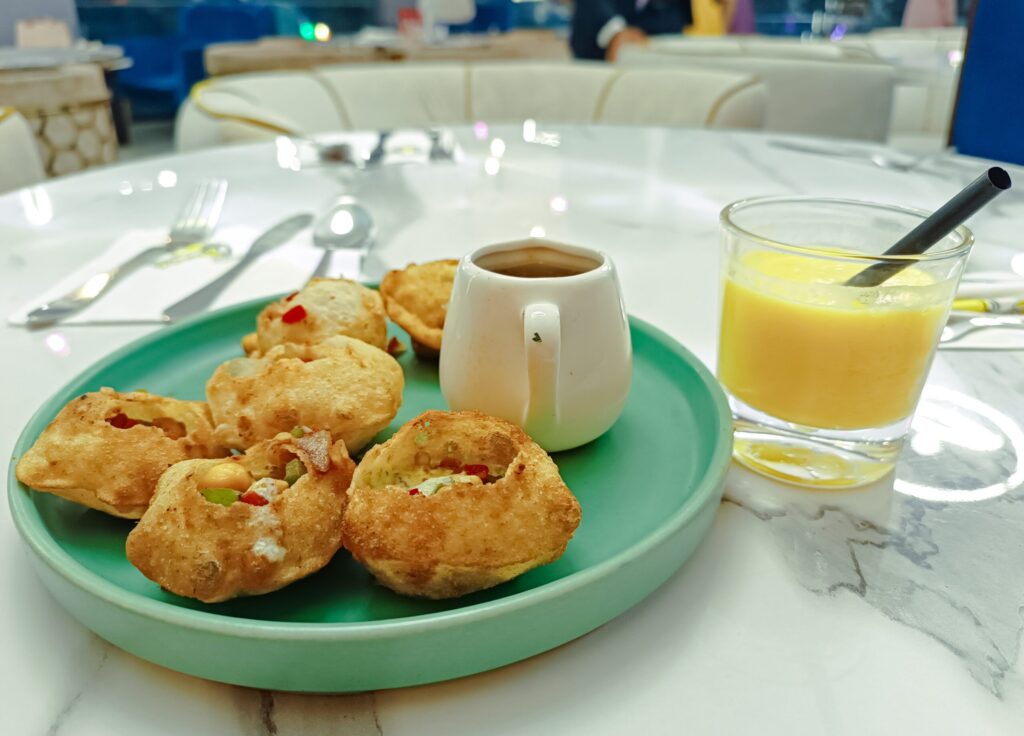 2. Chicken Sandwich & Kebab Slider – Perfect Tea-Time Snacks:
Next on our culinary journey were the Chicken Sandwich and Kebab Slider, offering delightful and simple snacking options that perfectly complemented our tea time. Though not extraordinary in taste, the sweet tomato sauce added a touch of flavor to these bites, making them a pleasant addition to the cafe's diverse menu.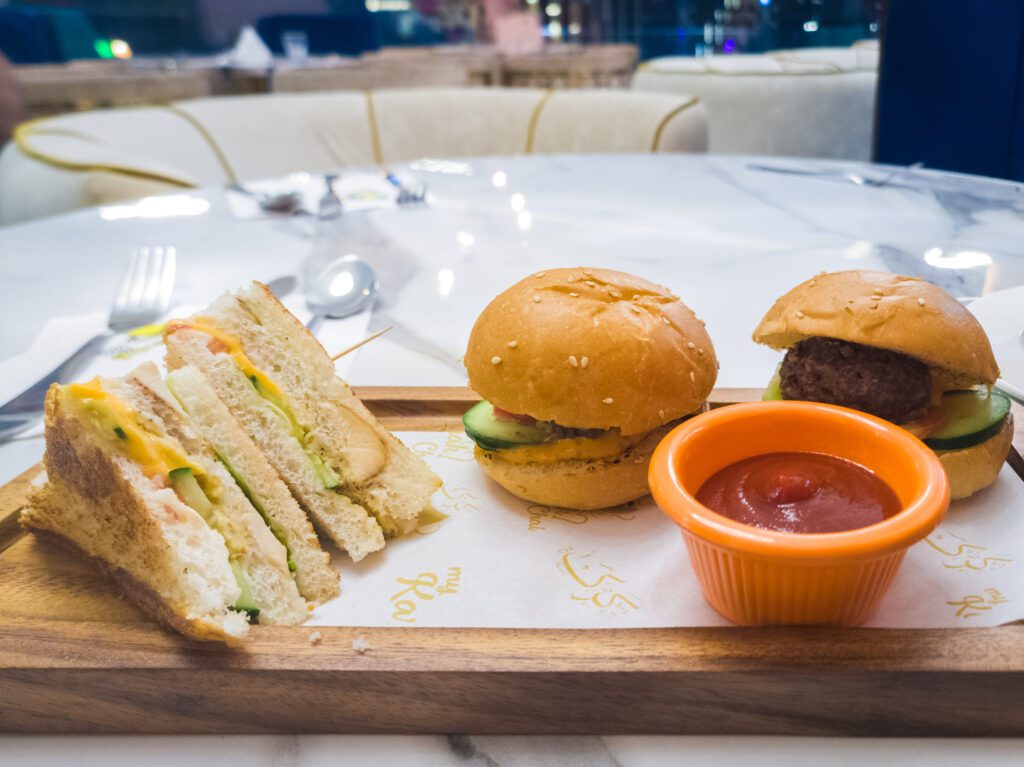 3. Nutella & Mango Waffle – A Harmonious Fusion:
The Nutella & Mango Waffle arrived, showcasing a heavenly fusion of velvety Nutella and the tropical sweetness of mango. The flavors were exceptional, even though the waffle itself could have been slightly crisper. Nonetheless, the dish left us satisfied and eager to continue our flavorful journey.
4. Cheese Naan – A Perfect Companion to Tea:
The soft, fluffy, and lightly cheesy Cheese Naan perfectly complemented our tea, leaving us longing for more amidst the culinary array.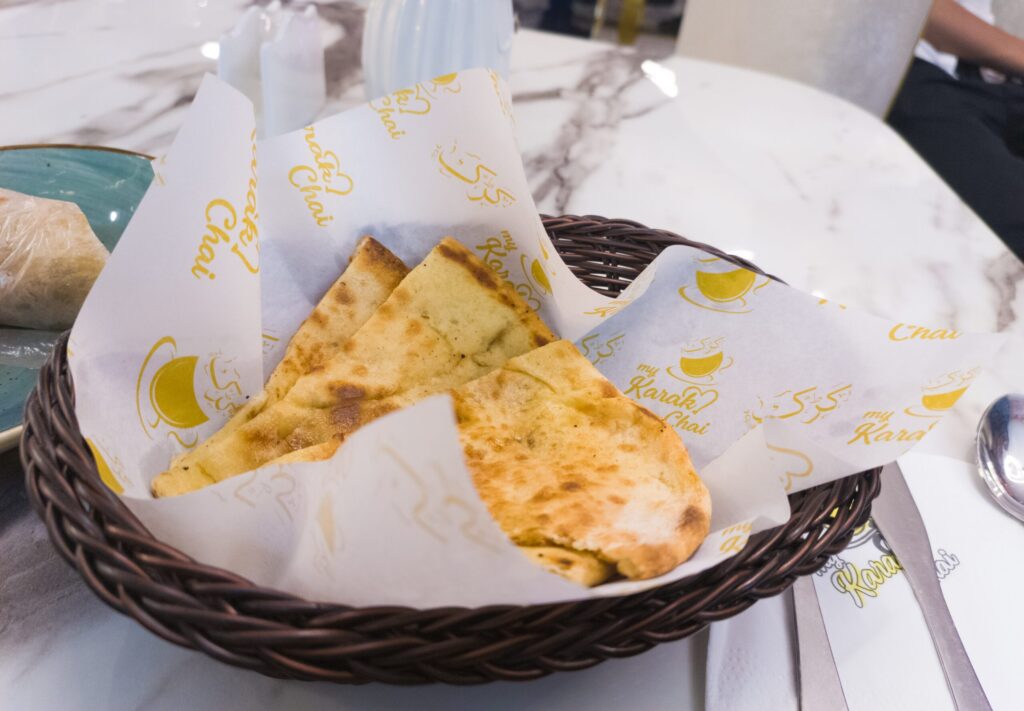 5. Lahori Kebab Roll – A Moderately Spiced Delight:
As we ventured further, the Lahori Kebab Roll made its appearance. Greeted by a generous portion size and tantalizing aroma, we savored its enjoyable taste, even though the spices were more moderate than the fiery flavors typically associated with Lahori cuisine. Nonetheless, it added a flavorful twist to our culinary expedition.
6. Chicken Grilled Steak – A Tantalizing Treat:
The Chicken Grilled Steak showcased the cafe's culinary expertise. The succulent chicken, perfectly grilled and adorned with a mildly spicy sauce, delighted our taste buds. However, for those sensitive to salt, it might be worth noting that the seasoning leaned slightly towards the saltier side. Nonetheless, the dish was well-presented, served with creamy mashed potatoes as the ideal side.
7. Cheesecake (with Oreo Topping) – A Decadent Finale:
To conclude our meal on a sweet note, we indulged in the Cheesecake, and it did not disappoint. Rich, creamy, and generously laden with cheese, the dessert was a pure indulgence. Topped with a luscious layer of chocolate syrup and a golden-glazed Oreo cookie, it was the perfect treat to satisfy our sweet tooth after a flavorful journey through the cafe's offerings.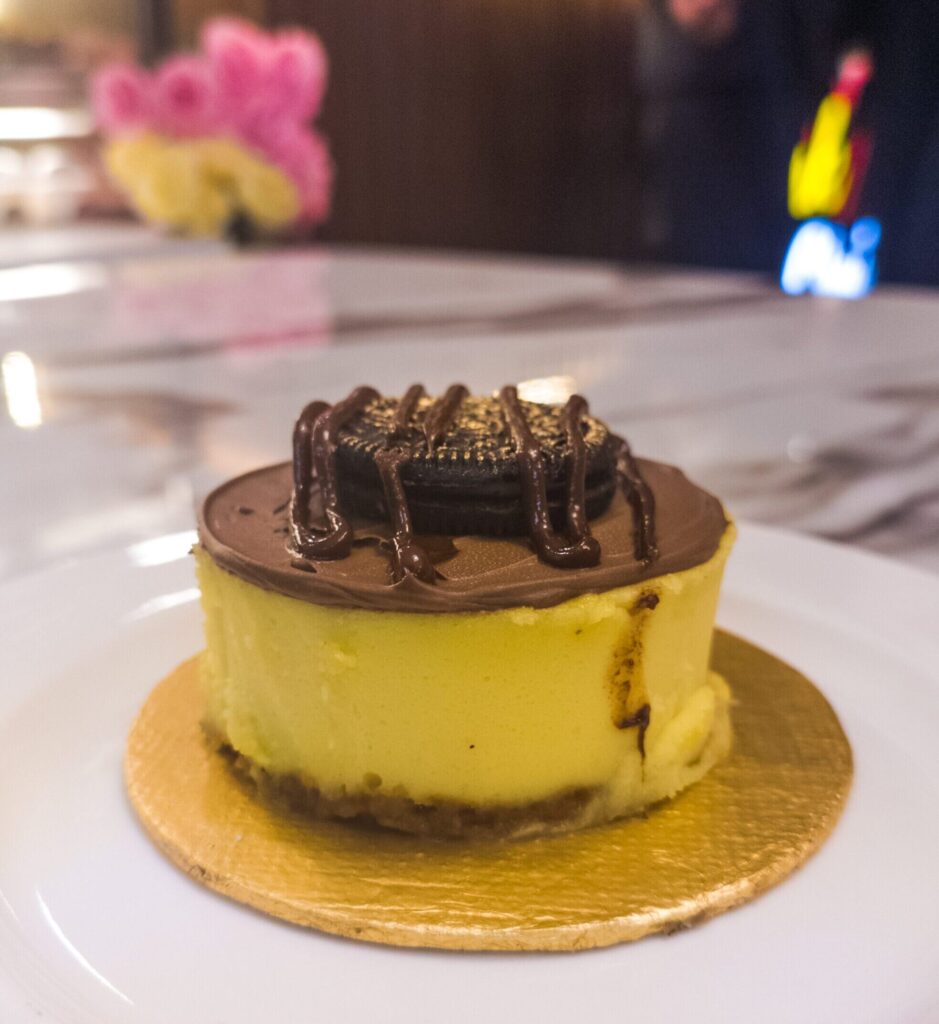 Staff's Insight
The cafe manager's proactive and friendly approach perfectly complements the high-end customer experience My Karak Chai aims to deliver. With staff dressed impeccably to create an inviting ambiance, every visit feels like a special occasion.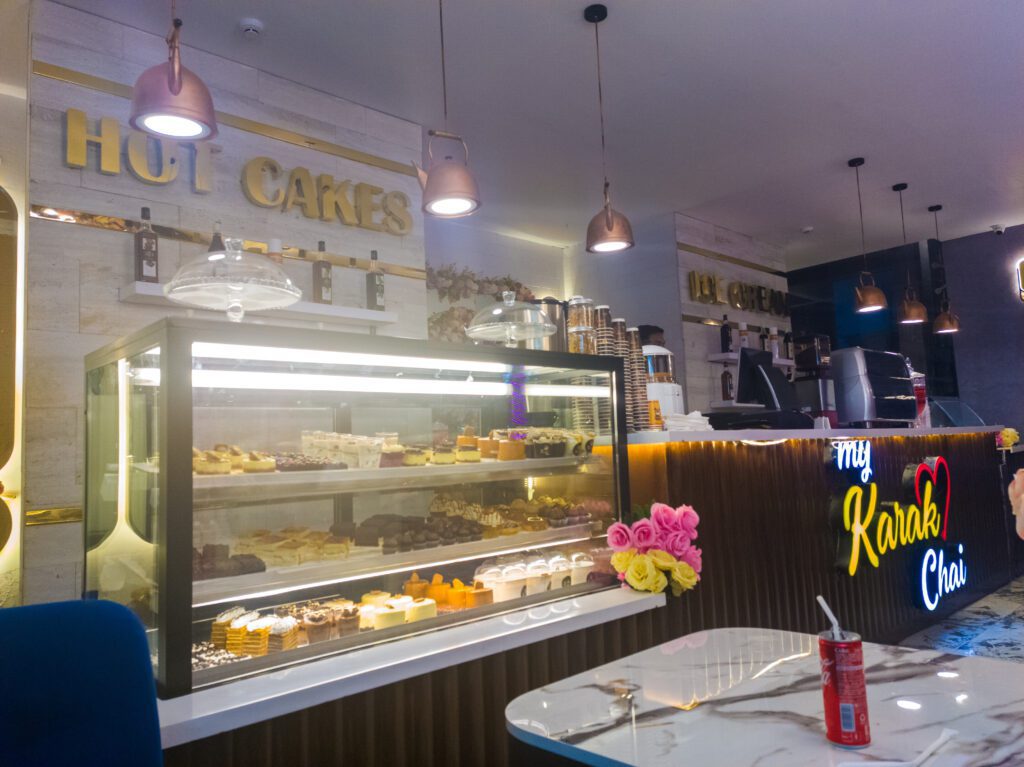 Our Experience
My Karak Chai was a culinary adventure brimming with flavors and surprises. From the exquisite Gol Gappay to the rich Cheesecake, each dish offered a unique perspective on traditional and continental delights. The cafe's ambiance and attentive service added to the overall warmth of the experience. We left My Karak Chai with contented hearts and a desire to return soon to explore more of their delightful offerings. So, whether you're craving a satisfying meal or a cozy tea time, My Karak Chai is undoubtedly a place worth visiting.
"My Karak Chai left us spellbound with its unique experience and exceptional service. The fusion of traditional chai culture with a modern twist is truly remarkable."
Conclusion
In conclusion, My Karak Chai is more than just a cafe; it's an experience that leaves a lasting impression on your senses. The blend of flavors, the vibrant ambiance, and the heartwarming hospitality make it a must-visit destination in Lahore. So, the next time you seek a delightful adventure filled with desi charm and contemporary allure, let My Karak Chai be your guide.